How to Become a College Ready School was the Theme of MCNC's 17th Annual Summer Professional Development Institute. Over two hundred educators from thirty schools across the country attended this four day event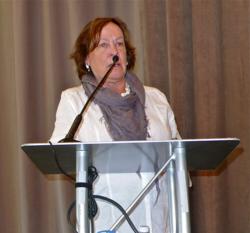 Dr. Cecilia L. Cunningham-President & Founder of MCNC
These conferences are vital for schools to share information about becoming college ready. In education there are very few opportunities to network and exchange ideas
New York, NY (PRWEB) July 26, 2011
How does a high school become a College Ready School? This was the theme of the Middle College National Consortium's (MCNC) 17th annual Summer Professional Development Institute. Held from July 7 to July 10 in Jersey City, New Jersey the Institute was attended by over two hundred teachers, counselors, high school administrators, and college personnel from thirty schools, countrywide . Kicking off the conference, MCNC Director Dr. Cecilia Cunningham and former principal Terry Born gave an in- depth presentation of David T. Conley's Key Cognitive Skills (KCS) necessary for success in college. A series of workshops followed including ePD at Charles School–Tying Literacy to KCS, KCS in the Classroom…Teaching KCS for College Readiness, and Making KCS a Part of the Entire School.
Eric Nadelstern, former New York City Deputy Chancellor and Teachers College Professor, delivered a provocative keynote address. Nadelstern spoke of the origins of the school reform movement in New York City and how to take it to scale. He emphasized the necessity of devolving power from the Central Office to the schools and holding them accountable for student progress. He noted that before school reform, the New York City high school graduation rate for the past fifty years hovered around 50% . The present graduation rate has climbed above 60%.
Workshops dealing with Common Core State Standards in mathematics and assessment, literacy in social studies, text complexity, and analyzing student work were given. These aided attendees understand implementation plans as well as the progress the States are making with the Common Core Standards. The professional development necessary to assist teachers and administrators to create a college ready school was another major area of emphasis. Rounds as Classroom-Based Professional Development, Developing a 9-12 College Access Program Using Distributed Counseling, Math Education–A Relay Race, were among the well-attended professional development workshops.
Comments such as "The conference did challenge me to think differently about how my school supports students and how I prepare my students in the classroom", "My vision for looking at college readiness is now clearer. I will be developing classroom evidence around college readiness", and "It looks like the Common Core is for real and we will have to address them. Continuing workshops at MCNC conferences will be important in getting us all ready". Dr. Cecilia Cunningham, Director and founder of MCNC stated "These conferences are vital for schools to share information about becoming college ready. In education there are very few opportunities to network and exchange ideas".
Middle College National Consortium is a pioneer in developing small schools on college campuses where high school students, especially those who have been previously underserved by their former schools, can earn both a high school diploma and either an Associate's degree or transferable college credits upon graduation. MCNC, headquartered in New York City, is a leader in the movement to establish and sustain dual enrollment, in high school and college, as a viable and necessary educational model.
To get a comprehensive overview of the history, design principles, current work and achievements of the Middle College National Consortium, please visit us at https://mcnc.us.
Contact information
Tony Hoffmann
Middle College National Consortium
https://mcnc.us
###
https://mcnc.us/wp-content/uploads/2014/08/mcnc-logo.gif
0
0
Tony Hoffmann
https://mcnc.us/wp-content/uploads/2014/08/mcnc-logo.gif
Tony Hoffmann
2011-08-10 17:21:45
2012-06-04 17:47:15
MCNC Summer Professional Development Institute Concludes With Rave Reviews from Attendees